Abby's Ultimate Dance Competition features young dancers competing for a huge prize of $100,000 and a Scholarship to the Young Dancers Program at the Joffrey Ballet School in New York. The show features the dancers competing as well as thier mothers and the drama between them.
Audition Process
Edit
The full audition process has not been revealed but bits and peices have been revealed online and some of the dancers/mothers released how they auditioned in various interviews. Here is whats been reveled so far: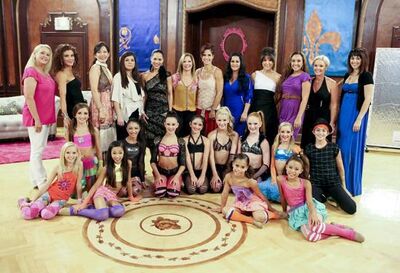 The show was orginally called "My Kid Can Dance" and advertised to be named the best kid dancer in America and to win a large cash prize. It was also advertised the the kids would be trained by top choreographers and will compete in front of millions on National Tv. 
The audition was for dancer 12 and under who were or at 12 by January 1st, 2012, this means Madison O'Connor, Brianna Haire, Zackery Torres, and Elisbeth Tracy turned 13 between January and filming sometime in July-August
Contestants were asked to send an email with contact information, a brief bio of the dance mom and dancer, photos, and a link to a video of thier best performance.
Some dancers were souted to audition at competitions and sent in tapes, Yvette Walts mentioned that Hadley was one of 2,000 tapes sent in.
25 dancers flew to New York and competed two routines before 14 were chosen to go to L.A.
The 14 competed for 12 spots on the show in the Casting Special.
Casting for Season 2 was announced at the end of the last few episodes of the first Season.
Filming probably took place around April - May
Tickets to see AUDC live were being sold here . The dates are April 11th, 15th, 18th, 22nd, 25th, 29th, and May 3rd, 8th, and 17th. Those are assumed to be the dates the show will be filming. The season will premired September 3rd, 2013. 
Life on AUDC
Edit
Not much is known about the dancers lives on the show. Some details were revealed on the show and other interviews:
The dancers and mothers live in hotel rooms in Season 1 but moved to Bungalows in Season 2
Despite the drama potrayed on some of the episodes, the moms have said it was common for moms to sit in on other dancer's rehearsals.
Yvette Walts mentioned in an interivew that all the dancers and moms met for the first time on camera.
The dancers dance for about 8 hours a day and train for 2-3 days between each competition.
The dancers and moms seem to be able to contact home whenever they want as seen in Dancing Through the Decades where Lexine and Maria contacted thier family and in Dance For Your Life where Madison contacted her father.
14 dancers competed on the first season of Abby's Ultimate Dance Competition. Two dancers were eliminated in thr Casting Special. Each week, 1 dancer was eliminated (with the excpetion of the casting special, which was a double elimination)
Season 2 dancers were officially announced on the AUDC website. The dancers are: