Abby's Ultimate Dance Competition (originally titled My Kid Can Dance) is an American dance reality competition series. The series encompasses talented boy and girl dancers who are competing for the top spot and a scholarship to a prestigious dance academy.
Cast
Miscellaneous



"Psychedelic Surfer" was a solo performed in Dancing Through the Decades by Madison O'Connor. The dance earned her a spot as one of the top dancers that week.
---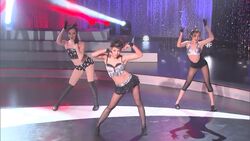 "International" was a trio featured in Make It Count!. The dancers featured were Kalani Hilliker, Gianna Newborg and McKaylee True. The dance earned Kalani and McKaylee as the top dancers that week but landed Gianna in the bottom three.


JoJo Siwa is the daughter of Jessalynn. She featured in Season 2 of Abby's Ultimate Dance Competition and placed 5th.
---
Favorite Abby's Ultimate Dance Competition winner?
Ad blocker interference detected!
Wikia is a free-to-use site that makes money from advertising. We have a modified experience for viewers using ad blockers

Wikia is not accessible if you've made further modifications. Remove the custom ad blocker rule(s) and the page will load as expected.