Abby's Ultimate Dance Competition
Talk

0
Abby's Ultimate Dance Competition



Genre

Dance, Reality Television

Format

Competition

Hosted by

Judges

Abby Lee Miller (Head Judge)
Richy Jackson (Season 1-Present)
Robin Antin (Season 1)
Rachelle Rak (Season 2- Present)

Seasons

2

Episodes

10+ (with 1 special)

Channel

Lifetime
Abby's Ultimate Dance Competition (orignally titled My Kid can Dance) is a reality dance competition show where twelve dancers aged 6 - 13 compete for prizes. However, the dancer's mothers join them in making sure everything goes according to plan. The show is judged by Abby Lee Miller , the famous choreographer and star of Dance Moms, Richy Jackson, the visual director/choreographer for Lady GaGa, and Rachelle Rak, a Broadway star. The show debuted on October 9, 2012. A second season debuted on September 3rd, 2013.  
Choreographers
Edit
Abby Lee Miller
Richy Jackson
Robin Antin
Bobby Newberry
Anthony Burell  
Gina Starbuck 
Joyce Chittick 
Frank Gatson
Kitty McNamee
Molly Long
Ricky Palomino 
Q Pittman
Victor Rojas
Shannon Beach
Abby Lee Miller - Head Judge
Richy Jackson - Judge
Rachelle Rak - Judge
Tessandra Chavez - Supervising Choreographer
Anthony Burell  
Tarua Hall
Joyce Chittick
Q Pittman
Matt Cady
Erik Saradpon
Shannon Beach
Nito Larizo
Peter Chu
Lesley A. Bandy
Victor Rojas
Haley Huelsman (season 2)
Sarina Jassy (season 2)
Travis Atwood (season 2)
Tyler Atwood (season 2)
Jojo Siwa (season 2)
McKaylee True (winner for season 2)
Gianna Newborg (season 2)
Kalani Hilliker (season 2)
Trinity Inay (season 2)
Ally Robinson (season 2)
Chloe Beatty (season 2)
Amanda Carbajales (season 1)
Asia Monet Ray (season 1)
Jordyn Jones (season 1)
Kyleigh Jai Colchico Greeley (season 1)
Zack Torres (season 1)
Hadley Walts (season 1)
Elisabeth Tracy (season 1)
Madison O'Connor (season 1)
Tua Tevaga (season 1)
Lexine Cantoria (season 1)
Tessa Wilkinson (season 1)
Brianna Haire (winner for season 1)
Nicole (season 1)
Amanda Kelly (season 1)
See page Season 1 for full information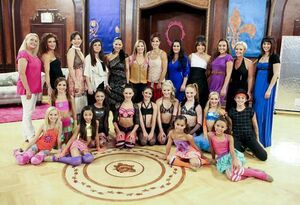 Season 1 of AUDC premiered on October 9th, 2012. The show premiered with a casting special where the final 14 dancers competed to get into the competition. 12 dancers and their mothers moved on and competed weekly at the L.A theater. The prize was $100,000 and a scholarship to the Joffrey Ballet School in New York. Brianna Haire, 13, was declared the winner on December 11, 2012.
See page Season 2 for full information.thumb|300px|link=
During season 1 of AUDC, at the the end of some of the last few episodes, Abby advertised an opportunity to apply for Abby's Ultimate Dance Competition. The official website for AUDC currently has a casting tab opened. Season 2 aired on September 3rd, 2013 with 11 dancers competing for $100,000 and a scholarship to the Joffrey Ballet School. McKaylee True, 13, was declared the Season 2 winner.
Season 3 has yet to be officially announced. On the Dance Moms Reunion: Hurricane Abby, Abby mentioned that along with her nationwide tour to cast dancers for the ALDC, she was also casting for Abby's Ultimate Dance Competition, which indicates that Season 3 will possibly happen after Season 4 of Dance Moms (which did not happen). Additionally the casting tab on the Abby's Ultimate Dance Competition website is still open however it never closed even after Season 2 was done casting.
Abby revealed in an interview that AUDC season 3 was put on hold for her new show "Abby's Studio Rescue" so it is unknown if the show will return for a 3rd season.
Concidering Abby's Studio Rescue's ratings and cancellation, a season 3 may be quite possible for the show. If this does happen, then the 3rd season will probably not be filmed until summer 2015 as AUDC films only during the summer.
For the music from AUDC, please follow this link to the Abby's Ultimate Dance Competition Music Guide.
The audition process has never been fully revealed but pieces have been relesed by the dancers and moms on the show:

Dancers submit an audition tape
The top 25 were flown to New York and performed two routines.
The top 14 were flown to L.A. for the Casting Special.

Group Dances were performed every week but most were not shown on the show. The group dances (even the ones released on the show) were posted on the official website (ones that were shown on TV were posted as an extended version).
Madison O'Connor said in an interview the dancers danced 8 hours a day.
Yvette Walts, mother of Hadley Walts, stated in an interview that 2,000 tapes were submitted to the show, estimating around 2,000 dancers auditioned for the show's first season.
External Links
Edit