Asia Monet Ray
Talk

0
138pages on
this wiki
   n

Asia Monet Ray

Season 1 runner
Background Information
Gender
Female
Age
8 (6/7 on AUDC)
Date of Birth
August 10th, 2005
Occupation
Dancer
Gymnast
Studio
Just Plain Dancin'
Abby Lee Dance Company (Former)
Affiliations
Orange County Performing Arts Academy
Bloc Talent Agency
Hometown
Corona, California
Competition Information
Season

 

1
Place

 

3rd
Favored Genres
 
Jazz
Hip-Hop Funk
Disfavored Genres
 
Lyrical
First Appearance
 
Casting Special
Episode Eliminated
 
Dance for Your Life
Friends and Family
Parents
Kristi Ray (mother)
Shawn Ray (father)
Siblings
Bella Blu (Younger Sister)
Asia Monet Ray is a 8 year old dancer who competed in the first season of Abby's Ultimate Dance Competition and a former member of the ALDC in Dance Moms. Asia came in 3rd place on Dance Moms
Profile
Asia ray was enrolled in dance at the age of 2 by her mother who was a gymnast, fitness competitor, and athlete when she was younger. Asia's favorite style of dance to perform is Jazz and Hip-Hop Funk. She also loves to watch all styles of dance. If Asia won $100,000 from the show, then she share it with those who have helped her on her dance journey and save some for more dance training. If Asia doesn't dance professionally, then she would love to be a choreographer.
On Abby's Ultimate Dance Competition
Asia was one of the 14 finalists in the casting final. Asia was the last one to make it onto the show, beating Amanda K and making Asia the youngest on the show. Asia was place into the Hip-Hop trio for ther first week. Asia made it onto the next week but landed in the bottom 3 for her performance. Asia landed in the bottom 2 in the next week but her duet partner Tua was sent home instead. Asia made it into week 4 and then made it into week 5, where she and Lexine were praised as the top dancers for the week. Asia continued into week 6 and won the improv challenge. Asia was able to pick her routine and she passed the week. Asia landed in the bottom 2 in week 7 and week 8 but made it pass both weeks. Asia made it into the finale with Madison and Brianna. Asia's place in the competition was constantly questioned by the other mothers and sometimes even the other dancers because her technique wasn't up to where the other dancers and Abby was always pointing out her sickled feet and other technical mistakes but she was a stunning performer. Asia was the subject of many of the arguments between Kristi and the other mothers, mainly Yvette and Coreen. Asia worked with Abby for her final solo in her mentoring session. Abby and Asia talked about her technique. Asia performed the trio and was caught for lip-syncing the piece and being off. Asia performed her solo as well, which received positive reception from all the judges. Asia placed 3rd in the competition. She was beaten by Madison O'connor and Brianna Haire. 
Asia appeared Divas in the House as a guest. She competed against the other girls, beating Gianna, Trinity, and JoJo. She later judged the group and choose Kalani over McKaylee. She also attended the stage show with her mother Kristi and sister Bella, Then she attended the Season 2 finale.
On Dance Moms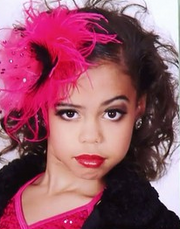 Asia made her Dance Moms debut in the episode Watch Your Back, Mack. Asia's mother Kristie revealed that Asia had been over-booked for jobs and that they had recently returned from Korea. Asia worked with Abby and got a solo for her first week on the team. Asia however had some slip-ups and had to do 20 push-ups while Abby told her all of her mistakes. Asia was then placed in the group number in the next episode The Politics of Dancing and won with her solo. Then she competed in the group number in May I Have This Dance? and a duet with Nia. Asia was then brought up as a possible replacement for Mackenzie in the group's routine The Last Text for thier performance of the View. Asia has since still been with the group but has taken some breaks on occassions for jobs. In the final episode of the season, Kristie revealed that Asia would no longer be competing with ALDC and is retiring from competative dance. 
AUDC Performances
Richy's Combo
Robin's Combo
Abby's Combo
Get Into Character (Group Number)
Activist Funk Duet (with Tua Tevaga)
Warriors (Group Number)
Machines Vs. Humans Jazz Funk Duet(with Brianna Haire)
Dancing through the Decades (Group Number)
1980's Pop Duet (with Lexine)
Fairy Tales (Group Number)
Wicked Witch of the West Modern Solo
Harujuku (Group Number)
French Solo
Circus (Group Number)
Captive Animal Jazz Solo
Mamma I Made It (Group Number)
Finale Lyrical Trio (with Madison and Brianna)
Finale Jazz solo ((Eliminated))
Dance Moms Performances
Solos
Groups
Duets
Move U 2 (with Nia Frazier) - 1st place (May I have this dance?)
We Hit Harder (with Mackenzie Zeigler) - 1st place (On-Again, Off-Again Abby)
My Doll (with Chloe Lukasiak) - 2nd place (Do-Si-Do and Do-Si-Don't)
Trivia
Out of all the AUDC contestants who appeared on Dance Moms (Zack Torres and Hadley Walkts) Asia has had the most screen time.
Asia typically holds fan events with fellow AUDC contestant Jordyn Jones. 
Asia was undefeated with her solos during her time in ALDC.
Asia and Jordyn have known each other prior to the show. 
Asia and Kalani are both tied for being in the bottom the most (5 times each)
Asia has been named "Abby's Ultimate diva"